HUMBLE BEGINNINGS
Whakatōhea is an indigenous Māori iwi centered around the small coastal town of Ōpōtiki in the Eastern Bay of Plenty region of New Zealand.

Over 20 years ago, Whakatōhea created the aspiration to develop a Greenshell™ Mussel aquaculture farm off the coastline of Ōpōtiki. The vision was that the farming operation would be the foundation of employment for their people, provide income for whanau, and support improved outcomes for the entire community.

Creating the world's first Open Ocean Greenshell™ Mussel Farm of such magnitude was no easy feat. The consent process took over 10 years of legislative change and resource consent approval, followed by a further 5 years of research and feasibility trials. When the venture needed capital to reach commercialization, the community came together – with both local Māori and Pakeha, businesses, families, and local trusts investing to enable the farming operation to further expand.

Today - with iwi support, national government contribution, and significant shareholder investment – the dream for Te Whakatōhea iwi and the local community is no longer just a dream; it is a living reality.

Te Whakatōhea Mussel Farm currently lays just over 8.5 km off the coastline of Ōpōtiki. The farm expands across over 3800 hectares of nutrient rich, clear, and open ocean water space.

Mussels are harvested daily from the farm and delivered directly to our Ōpōtiki Processing Facility. From there, mussels are immediately processed, packaged with ice, and freighted overnight to reach our customers the following day.
ORDER NOW - LETS EAT!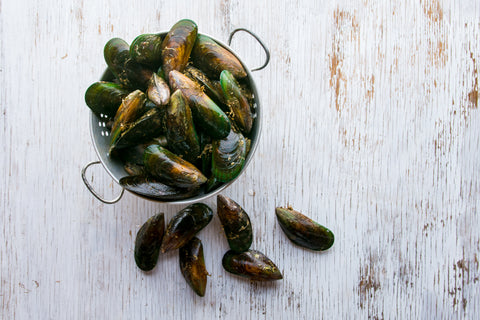 FROM OUR PLACE, TO YOUR PLATE
The Whakatōhea Mussel Processing Facility is situated in the humble Eastern Bay of Plenty town of Ōpōtiki. Commissioned in 2021, this is a purpose-built facility with capacity to produce various mussel products for Domestic and International Markets. Products range from frozen mussel meat, frozen half shell, to live whole shell.

The Mussel Processing Facility consist of two large processing factory buildings with a drive-through canopy between them. There are a number of functions across the factories; including areas for loading, storage, ,chilling, freezing, packing, shucking, tray-loading, and staff amenities.

During harvesting season, Mussels are collected from the Whakatōhea Mussel Farm and delivered directly to our Facility for processing.

Both the offshore Mussel Farm and associated Processing Facility were established tio support Te Whakatōhea iwi's long-term vision of "Ko te kai hoki i Waiaua" - "To be the food bowl that feeds the world".